Lagos also known as Eko (yoruba) is a city in Nigeria.
The city, with its adjoining conurbation, is the largest in Nigeria, and the largest on the African continent.
Lagos is one of the fastest growing cities in the world and also one of the most populous urban agglomerations.
The city is one that draws and accommodates people for business and tourist attractions.
peradventure you are on a mission to Lagos Nigeria, Here are Five beautiful places to look out for.
LEKKI CONSERVATION CENTRE
The reserve area covers a land area of 78 hectare located on Lekki Peninsula next to the Lekki Lagoon and near the Lagos Lagoon.
Approaching the reserve, there's a boulevard of coconut trees which leads to a well laid out car and Visitors Park. It is endowed with an abundance of plant and animal life. Its huge tract of wetlands is set aside for wildlife viewing.
Raised walkways enable viewing of animals like Snakes, crocodiles, monkeys and various birds
There is also a conservation centre and a library. The wetlands are managed by the Nigerian Conservation Foundation, and it now includes a figure-of-eight system of footpaths, with hiking trails and stepping stones to cross waterways.
A trail boardwalk  to enrich tourists view of the vast resources of the nature reserve which is encapsulated on a mangrove terrain.
Side attractions along the trail includes swamp outlook, bird hide, rest stops and the tree house.
The 1.8km nature trail behind the foremost main buildings is connected by two wooden tracks. A sturdy wooden track leading to the nature trail, reveals an expansive stretch of marshland and Savannah grassland teeming with wildlife, as well as rich aquatic flora and fauna.
There's also a tree house which is a twenty-one meters-high tree platform where one can have a panoramic view of the picnic area, reserve, visitor's centre and children's playground among the trees.
Efforts have been made to save different types of animals, reptiles and bird life from extinction. The endangered species of animals includes bush bucks, crocodiles, Mona monkeys, squirrels, snakes, crocodiles, monitor lizards, duikers, giant rats and hogs. While the trees hosts Mona monkeys and other species of monkeys, the open grasslands are home to bush bucks, Maxwell's duikers, giant rats, hogs, mongooses, chameleons, squirrels and an impressive variety of bird life. Park rangers are also available as guides.
see photos below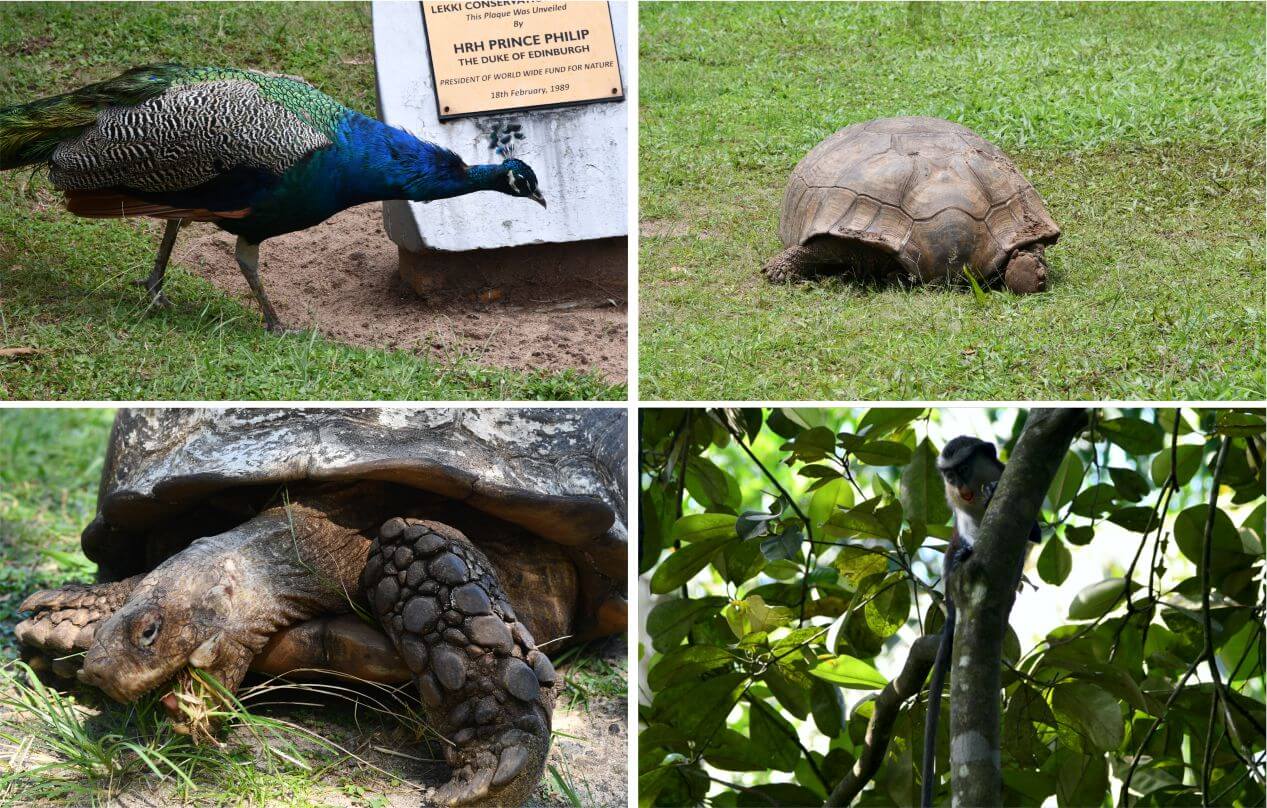 See Photos Below
 GBEREFU ISLAND/ POINT OF NO RETURN
Gberefu is also known as point of no return. Embedded in the island is our History.
The Island is an evidence of the slavery and cruelty done on Blacks.
If you want to know a little or more about slave trade, then this is a place for you.
Gberefu Island also known as Point of No Return is a populated historical island located in Badagry a town and local government area of Lagos State.
Symbolised by two poles slightly slanted towards each other and facing the Atlantic ocean the island was a major slave port after it was opened in 1473 during the Trans Atlantic Slave Trade era.
According to Nigerian historians, as many as 10,000 slaves were believed to have been shipped to America between 1518 and 1880 from the island
see photos below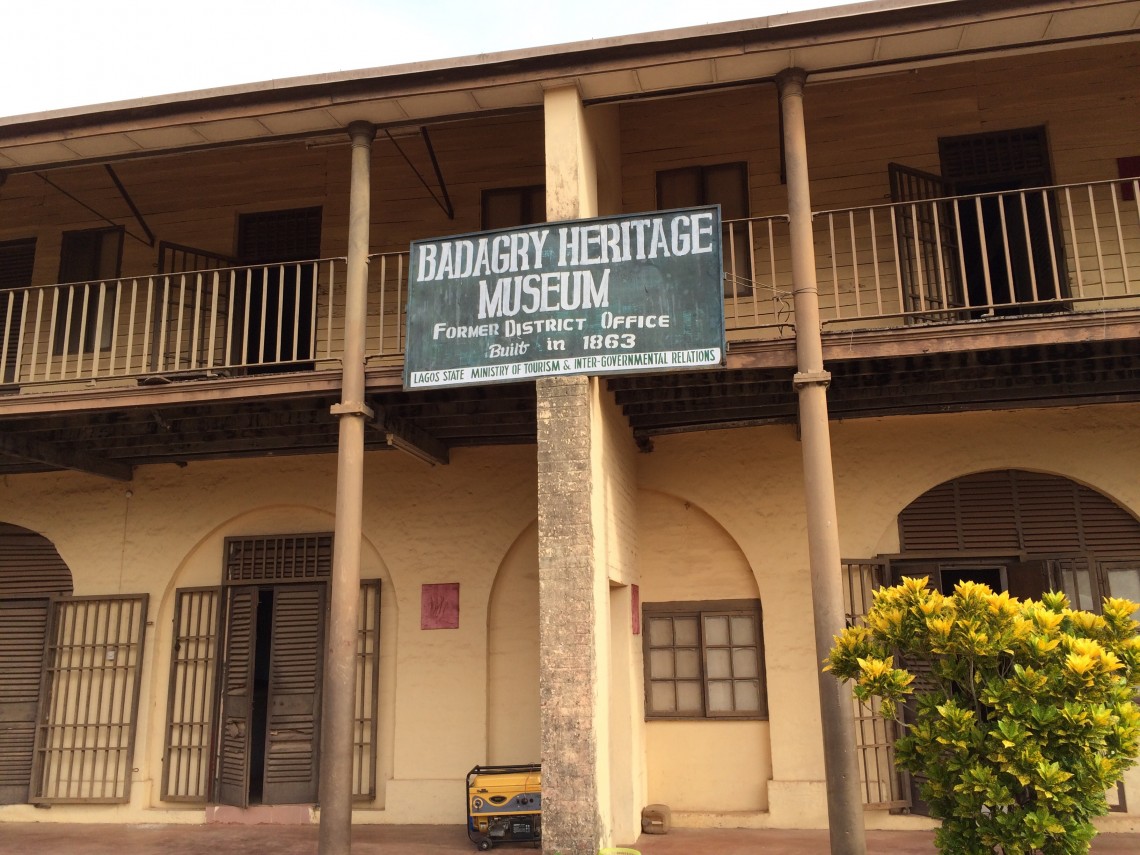 LEKKI LEISURE LAKE
Lekki Leisure Lake is a lake side resort overlooking the Atlantic in the Lekki peninsula area. The resort is operated and managed by Optima Leisure, a leisure and hospitality company based in Lagos.
Lekki Leisure Lake offers the thrill of jet skiing in a safe environment, under the watchful eye and guidance of an instructor
Leisure Lake is all about, Safe, authentic outdoor fun. It offers exciting water-craft activities on a tranquil lake and quad bike action for both kids and adults.
You can get wet on a jet ski, watch the kids get a kick from working the pedal boats, have a small get-together with friends on the party barge, or race a friend on a quad bike through a challenging dirt course.
see photos below
WHISPERING PALM RESORT
Whispering Palm Resort is situated at Iworo/Adijo Town, Badagry Lagos.
The Resort is situated in an environment that provides a stunning ambience, It is surrounded by beautiful green scenery that enhances the aesthetic feel of the resort.
It provides guests with what they need to get away from the usual hustle and bustle of Lagos– one is the private beach with a breezy atmosphere.
Whispering Palms Resort Lagos over the years has grown to be one of the most sought after destinations for vacations, getaways and honeymoons.
It offers top class hospitality, spacious rooms with modern amenities, a courteous and friendly staff, ideal environment and surroundings, and a very competitive room rate for a resort of its quality.
It is a 20-minute drive away from Slave Museum House and a 30-minute drive away from The French Village and the 1st Storey Building in Nigeria.
see photos below